TIPS Directory / Wayfinding™ Software
Kiosk User Interface Module
Intuitive, touch-friendly design
Interfaces with backend content database
Completely customizable, scalable, for large to small facilities
Multiple language capability
Displays colorful maps with animated routes and/or written directions
Customizable search options (alphabetical, by topic, by keyword, etc)
Optional one-touch print feature
Allows visitors to access content before they arrive
Can be integrated into Client's existing website
Uses same content database as kiosk
Easy editing by non-technical personnel, remotely updated
Accessible via TIPS Cloud™ or installed on client server
Password-protected, with multiple security levels
Publisher tool that triggers kiosk to pull new data automatically
Enclosures, Hardware, Services & Support
DynaTouch can fulfill all of your Self-Service Electronic Directory / Wayfinding requirements with our OneSource Solutions™ package, which includes all of the hardware, software, services and support needed for a fully-integrated, ready-to-run, turnkey system. Or, if you already have hardware or a preferred hardware vendor, just let us know!
Kiosks, tablets, workstations
Upright, sit-down, wall-mount, countertop models
Multitude of peripheral device options
Comprehensive deployment and support services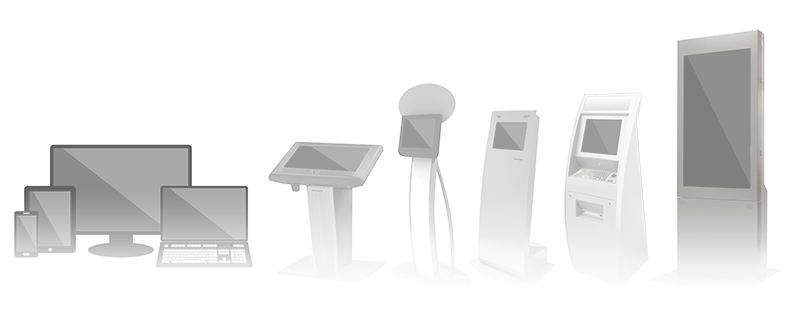 Read About Our Directory and Wayfinding Projects
Personnel / Physician Directory Module
Manage and present a comprehensive directory of physicians, providers and/or personnel in one or more buildings. It includes the individual's last name, first name, department, plus the floor, room and/or suite number of their office. Using an alphabetical keypad presented on the screen, users touch the first letter of the individual's last name, then select from a list of persons whose last name starts with that letter. Optionally, they can select 'All Individuals' and scroll up and down the entire list. Once an individual is selected, their department, floor, room and/or suite number is immediately presented. When additional information on the individual is available, the user can touch the 'More Info' button to view either a full-page multimedia screen or an Internet/intranet web page.


Auto-Dial Telephone Module
This module initiates automatic dialing of authorized phone numbers in the display content. Users pick up the telephone handset attached to the kiosk, then touch the 'Auto-Dial' button and dialing is initiated by the software. If multiple phone numbers are being displayed on the screen for the selected item, only the first number will be dialed. Client is responsible for all telephone connectivity, line and access arrangements associated with the use of this feature. A standard analog or digital telephone line is required at each kiosk location.
Featured Project
---
Brooke Army Medical Center Hospital Directory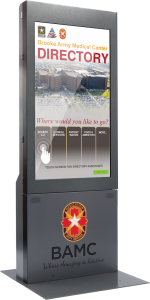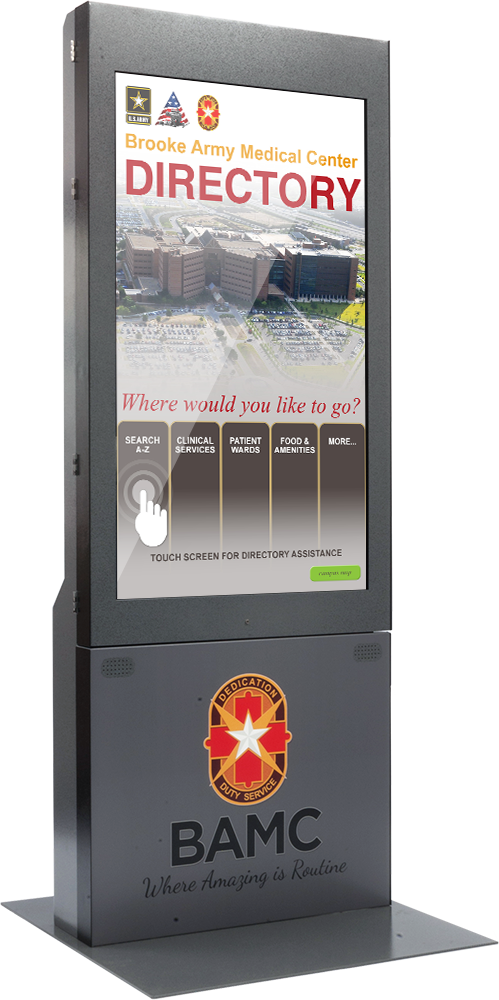 DynaTouch worked closely with the Brooke Army Medical Center (BAMC), to develop a customized directory/wayfinding kiosk solution to meet BAMC-specific requirements. Our services included project management, consultation, content development, graphic design, installation, and training. The hardware solution included six (6) upright, ruggedized kiosks to be located at each hospital entrance. Each system was outfitted with 55″ portrait-mounted monitors with infrared touchscreens. The overall solution was designed to provide:
touchscreen interaction, with easy wheelchair access, compatible with prosthetics
24/7 unattended operation at each hospital main entry point
an intuitive mainmenu and welcoming attract loop graphics
colorful, attractive, easy to read 3D maps
dynamically generated animated routes with turn-by-turn directions to over 350 destinations
QR codes for every map for easy take away by Smart Phones
easy editing by staff after system deployment
no dependence on outside connectivity or support
integration into their existing architecture and government-owned servers
secure, DoD-approved TIPS™ Kiosk Management Software to prevent unauthorized operations