Utility Bill Payment Kiosks
a better way to handle bill payments
Consider security, integration, ease of use, maintenance, and compliance before implementing a self-service bill payment kiosk. Our solution offers:
Multiple Hardware Options
Support for Cards, Cash, and Checks
Integration with your CIS & Payment Processor
BillPay Kiosk Hardware Options
Consider your customers' needs when deciding on an indoor, outdoor, through-the-wall model, or combination.
We've got you covered with stylish, secure, and ruggedized hardware offerings.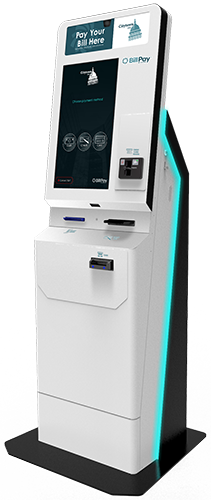 1
We offer multiple powdercoat colors and signage with your logo to personalize the kiosk for you.
2
Eye-catching LED lighting to lets your customers know to "Pay Your Bill Here."
3
Peripherals include:
Camera
22" Touchscreen
Barcode Scanner
Card Reader
Check Reader
Bill Acceptor
Receipt Printer

1
The outdoor model is specifically designed to be weather-resistant against hot and cold, ensuring a reliable and durable service for our customers all year round.
2
Eye-catching LED lights draw your customers to this easy-to-use kiosk.
3
Peripherals include:
Camera
22" Touchscreen
Barcode Scanner
Card Reader
Check Reader
Bill Acceptor
Receipt Printer
4
We'll print your logo onto the kiosk signage. Select from multiple powdercoat colors for a custom look and feel.
5
Made from stainless steel, this model's enclosure ensures a longer life in outdoor conditions.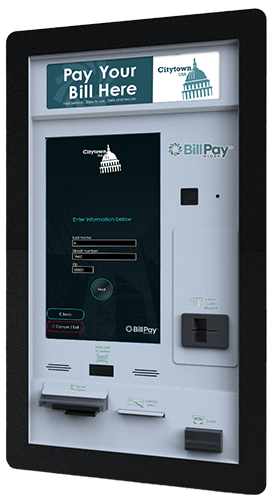 1
Your logo here! You can also customize the hardware color to match your branding.
2
Ideal for drive-through or walk-up service.
3
This model is made from stainless steel and built to last.
4
Peripherals include:
Camera
22" Touchscreen
Barcode scanner
Card Reader
Check Reader
Bill Acceptor
Receipt Printer
Rear monitor for easy access
Sliding printer mount
BillPay Kiosk™ Assists the City of Concord to Collect $3.3M in Payments
"BillPay Kiosk made paying your bill in-person simple, secure and safe."

Rita Ellison, Revenue Manager
City of Concord
Read about our successful implementation with the City of Concord, which, since the kiosk's deployment in October 2020, has collected $3.3M in payments (as of Nov.2022).
TIPS™ Kiosk Management Software
All TIPS kiosks are powered by TIPS Kiosk Management Software, our proprietary secure browser / lock-down software which:
Manages user sessions and day-to-day interaction
Restricts access to unauthorized sites
Logs system 'heartbeat'
Tracks and reports usage statistics
Allows for remote updates on any day at any time
And much, much more!
TIPS software has already been approved to operate on some of the most secure healthcare and government networks that exist, including the Military Health System and Defense Health Agency, VA, SSA, FBI and others.
TIPS kiosks also come with a subscription to TIPS Cloud™, our password-protected cloud-based Customer Service Center, where authorized administrators can view system status, view and print system usage data, sign up to receive automatic email reports, upload new screen savers, manage authorized URLs, and submit content change requests.
All DynaTouch solution packages are designed to include the hardware, software, services and support needed for a fully-integrated, ready-to-run, turnkey system. Or, if you already have hardware or a preferred hardware vendor, just let us know!
Kiosks, tablets, workstations
Floor standing, sit-down, wall-mount, countertop models
Multitude of peripheral device options
Comprehensive deployment and support services