Healthcare
Self-Service Kiosk Solutions
Total Solutions Approach
Kiosk Hardware, Software, Content, Services
In addition to hardware and software, our total solution approach includes a full range of kiosk development and support services:
Conceptual design and consulting
Off-the-shelf application software, content modules and design templates
Custom software and content design and development
Hardware selection, testing and integration
Program and project management
On-site delivery, installation and training
Worldwide maintenance, remote monitoring and support
Ongoing software updates and content management
DynaTouch has been delivering self-service, patient-facing kiosk solutions to the healthcare industry for many years. From our first installations in Military Hospitals, to VA and Indian Health Medical Centers, we have now added Community Health Centers and private healthcare facilities across the nation to our client list.
We have provided kiosk solutions for patient check-in, pharmacy refill, patient education, directory/wayfinding, HR/employee self-service, recruiting, patient surveys, health assessment surveys, visitor information, and access to online Internet services, and more.
Healthcare Kiosk Features
Intuitive touchscreen interface with a focus on patient self-service functions
Safe and secure unattended operation, with advanced security features to prevent access to the operating system, network or unauthorized Internet sites
Large, easy to read display with polarizing filter for maximum privacy
Supports 24 x 7 remote monitoring for trouble-free operation and maximum uptime
Monitor kiosk usage and optimize patient and visitor self-service functions with built-in usage logging and powerful, web-based reporting and analytical tools
Scalable and flexible interface, to easily accommodate updates and changes as needs evolve
Featured Project
---
Brooke Army Medical Center Hospital Directory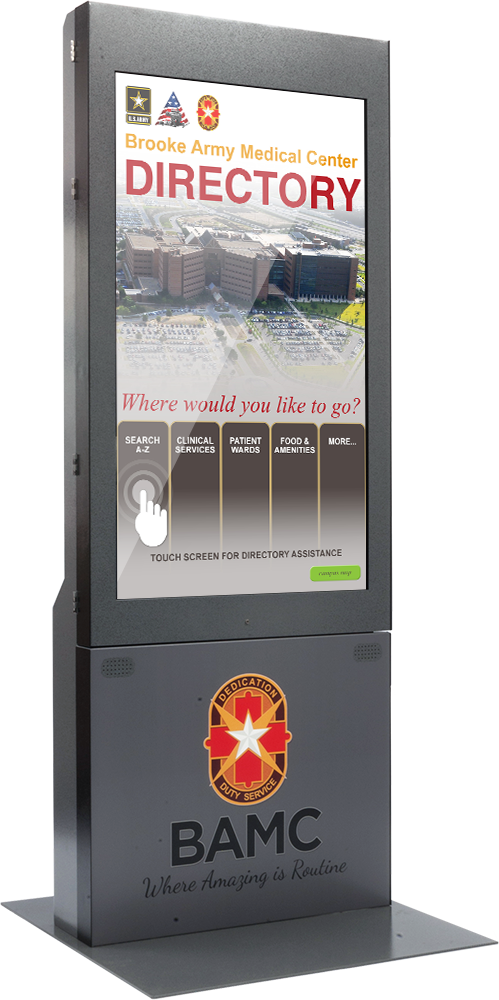 DynaTouch worked closely with the Brooke Army Medical Center (BAMC), to develop a customized directory/wayfinding kiosk solution to meet BAMC-specific requirements. Our services included project management, consultation, content development, graphic design, installation, and training. The hardware solution included six (6) upright, ruggedized kiosks to be located at each hospital entrance. Each system was outfitted with 55″ portrait-mounted monitors with infrared touchscreens.
The overall solution was designed to provide:
touchscreen interaction, with easy wheelchair access, compatible with prosthetics
24/7 unattended operation at each hospital main entry point
an intuitive mainmenu and welcoming attract loop graphics
colorful, attractive, easy to read 3D maps
dynamically generated animated routes with turn-by-turn directions to over 350 destinations
QR codes for every map for easy take away by Smart Phones
easy editing by staff after system deployment
no dependence on outside connectivity or support
integration into their existing architecture and government-owned servers
secure, DoD-approved TIPS™ Kiosk Management Software to prevent unauthorized operations